Follow our D Weddings Dream Day winning couple throughout their journey to their dream wedding.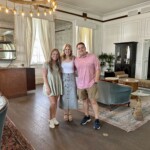 Planning A "Dream Day," Week One: Wedding Planner 101
Macy and Ethan's wedding planner, Jess Wegner of Jess Wegner Events, shares a few tidbits about what Macy and Ethan want from their big day, what to look for in a wedding planner, and the difference between a wedding planner and designer. Read more

Planning a "Dream Day," Week Two: What to Know About Choosing a Venue
Choosing a venue is often the first decision a couple makes in planning their wedding. Kyle Hennigan, the venue director for The Mason Dallas, reveals a bit about his first meeting with our lucky couple and shares what couples should ask when touring venues. Read more
Planning a "Dream Day," Week Three: How to Navigate Choosing a Custom Tux
Billy Langhenry of Mister Tuxedo—who will be outfitting our Dream Day groom, Ethan, for his big day—talks about the most commonly asked tuxedo questions and shares what Ethan will be wearing for their September 10 celebration. Read more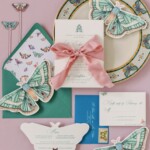 Planning A "Dream Day," Week Four: Selecting Your Stationery Suite
Your invitation suite is the first hint your guests will get for how your wedding will look. Dream Day stationer Milan Organ of Magnolia Boone Paperie talks about prepping for meetings with your stationer and previews how Macy and Ethan's invites will look. Read more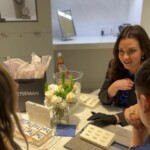 Planning a "Dream Day," Week Five: Creating a Custom Wedding Ring
Designing your rings can be daunting. Cristina Salas, one of the many experts at Dream Day jeweler Eiseman Jewels, dishes on her appointment with Macy and Ethan, current wedding band trends, the custom-ring timeline. Read more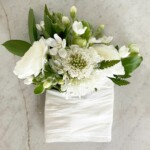 Planning a "Dream Day," Week Six: Designing Your Wedding Florals
Sophie Cox and Mazzi Stevens of Dream Day florist Blushington Blooms speak about choosing wedding flowers, the importance of prototype days, and how to create a flower budget—as well as what we can expect from Macy and Ethan's day-of florals! Read more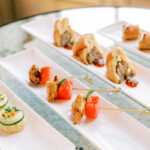 Planning a "Dream Day," Week Seven: Meeting with Your Wedding Caterer
Director of Vestals Catering, Jourdan Meester, shares her advice for couples planning their wedding menu, how best to accommodate guests with dietary restrictions, and ideas on incorporating family favorites or cultural nods into wedding cuisine. Read more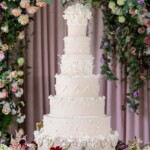 Planning a "Dream Day," Week Eight: Have Your Cake (And Eat It, Too)
Lauren Kitchens of Fancy Cakes by Lauren details what goes into a cake design meeting (and how best to prepare for it), what you should consider when choosing a design, and how concerned you should be with pleasing everyone with the flavor. Read more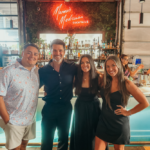 Planning a "Dream Day," Week Nine: Crafting the Perfect Signature Cocktail
Jason Smith of Mama's Medicine shares his advice for choosing a specialty wedding cocktail, how many bartenders you should have based on your guest count, pleasing your guests, and more! Read more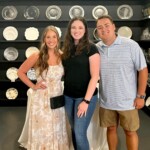 Planning a "Dream Day," Week Ten: Setting the Scene
Sarah Mendez, event specialist at Top Tier Event Rentals, fills us in on the difference rentals can make in your reception space, what couples can expect at their selection meeting, and the hottest trends in rentals right now. Read more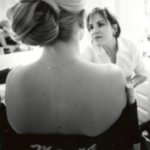 Planning a "Dream Day," Week Eleven: Makeup for Matrimony
Makeup artist Mayra Rams-Sanabria from My Fabulous Faces on what her process looks like when taking on new clients, why a trial run is beneficial to brides, and more. Read more
And the D Weddings Dream Day Giveaway Winning Couple is…
Congratulations to Macy and Ethan, the winners of the D Weddings Dream Day Giveaway!
They will be walking down the aisle at The Mason Dallas on September 10—and you'll have a front-row seat!
In the meantime, we'll be accompanying them as they plan each step of their dream day, so be sure to follow us on Instagram and follow along at DWeddings.com.
Thanks to all who voted and helped us celebrate D Weddings 20th Anniversary in spectacular style!