When Casey Manning and Nathaniel "Nate" Lewis first met through mutual friends, they instantly knew they belonged together. They started dating long distance—he was stationed in Fort Polk, Louisiana; she lived in Denton—before Nate moved to Texas to attend the University of North Texas. Five years after that fateful meeting, Nate proposed. The couple both had strong Southern upbringings, and their wedding on May 19, 2018, at Arlington Hall strove to capture timeless Southern charm and hospitality. Along with including traditional details, Casey and Nate added unique twists to their special day by including a gospel choir during the ceremony and surprising guests with swing dancers dressed in vintage military clothing (an homage to Nate's military history) to kick off the reception. Says Casey: "Our vision for a Southern-themed wedding seemed natural for us as it describes our roots and who we are."
Becoming One
Casey says a crest "maintains the idea that a new identity is created once you are married." Wedding programs and napkins also featured the design.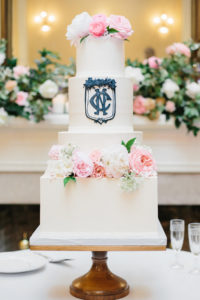 Just Peachy
Casey wanted to include real fruit in the decor, so her team used peaches as place cards. The element also continued the couples' "sweet as a peach" Southern theme. More than 200 peaches were included in the design.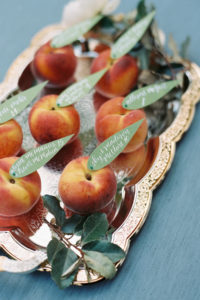 You're Glowing
These glass-encased candles mixed traditional Southern decor with simple and romantic ambience. "Early on in the design process, Casey mentioned that she liked candelabras," Wendy Kay of Birds of a Feather Events says. "I wanted to do something more streamlined and contemporary, so we decided on these particular candelabras that were custom ordered by our florist."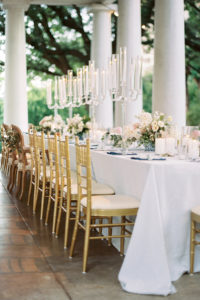 Something Blue
"Our wedding was in May—a perfect, spring dream—and took place just before Memorial Day," says Casey. "Since Nate and his groomsmen wore their military medals, I felt that it was the perfect way to subtly facilitate the feeling of patriotism."